Get your Kelowna Vacation Property to Pay for Itself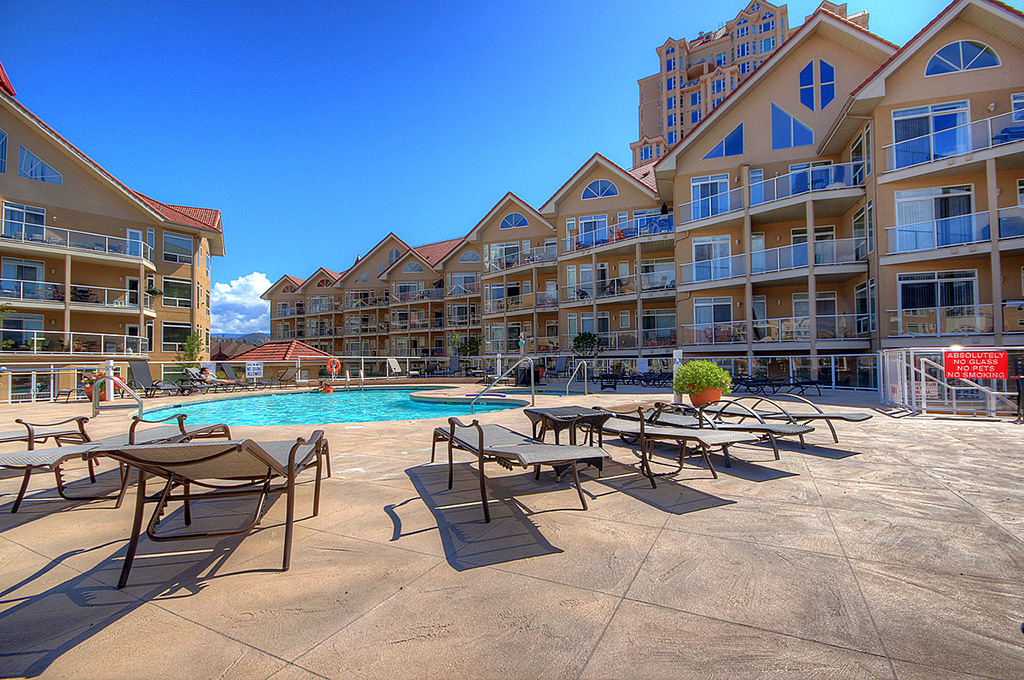 Owners of vacation properties in Kelowna often have to subsidize their properties just so they can use them for their summer holiday. And for many, that's just fine because they love their properties and they understand that their property is going to appreciate more than, say, a duplex 16 blocks from the lake front. Demand for beach front property is high and relatively speaking, there's not that much of it. If you want to buy in a resort setting, there are only so many resorts and condo buildings available. Luxury homes on the lake are more plentiful but often, vacation home owners are purchasing for their own use and not with an eye to rent to tourists.
When you think of the long term, people willing to subsidize their Kelowna vacation homes can do quite well.
But can you purchase beach front property that provides for your personal vacation and get some cash flow happening too?
From an investment point of view, there are two condo developments that come to mind that fit the criteria. The first is Discover Bay, located on Sunset Drive in Kelowna and the other is Sunset Waterfront Resort, also on the same street. They're close to each other and were constructed by the same developer.
Discovery Bay is a 236-unit building while Sunset Resort has just 128 units contained in a high-rise concrete-reinforced building which commands an average of $75 a square foot more than Discovery.
However, when it comes to renting on VRBO or Airbnb, they rent for about the same per night.
There's excellent demand for both properties, both during the high season in the summer and during the off-season. Compared to other tourist destinations in Kelowna, rents are generally a bit lower.
Both properties are zoned "resort residential." That means that as an owner, you're allowed to rent out your property by the night or by the week. Some properties command as much a $1,800 a week during Kelowna's hot summer months. The summer is the vacation owner's best opportunity to get some cash flow happening.
Some units in these buildings are also rented long-term to students or temporary workers as furnished suites. Students particularly enjoy having a turn-key rental from September to May and vacate the properties right before vacation season. That's as starting as early as the Victory Day Weekend.
Owners can book four weeks for their own use in Kelowna and still get excellent cash flow in their Kelowna vacation homes.
Depending on your lifestyle, as an owner, you can use your property in September when the late summer weather is still nice but the tourists are all gone.
These properties also offering moorage in the little lagoon off the property. As an owner, you can keep your boat there so if you're in town and your place is occupied you can still enjoy your boat.
There is the capacity to earn at least $1,800 a month with quadruple that in the summer. That's enough to pay your mortgage and your property taxes and most likely your strata fees.
What About Expenses
In addition to your mortgage payment and property tax, many of the other expenses are covered in the aforementioned strata fees. That incudes your heat, your air conditioning and your water bill. When renting your Kelowna property as a vacation home, your guests will pay for cleaning. If your cleaning fees are set property, items such as soap and toilet paper should be covered.
These Kelowna properties don't offer rental pool services so you can totally self-manage on VRBO and Airbnb and save money on property management fees. You will have to hire an on-the-ground cleaning service that will clean between guests.
These two properties are just examples of how you can purchase a vacation home in Kelowna and have your properties pay for themselves. There are other beach-front properties and vacation homes that you might be interested in.
Buyers from Alberta and the Lower Mainland of B.C. are the second and third demographic groups purchasing property in Kelowna and the Okanagan right now.
To find out how you can have the best of both worlds, contact your Real Estate Professional in Kelowna.
Leave a Comment